Welcome to Boutique Smog Check Vacaville, Ca
If you are looking for a clean, reliable smog check station in Vacaville, near Fairfield, you have come to the right spot. We make getting your smog test in Vacaville done easy. Boutique smog star certified smog check Vacaville by appointment or walk-in 7 days a week.
Convenient hours- so you can always find the time
Star smog check Vacaville
Star smog test in Vacaville for all types of vehicles
Reliable results that you can trust
We Keep It Convenient
Our number one goal is to serve our customers well. We make it convenient and easy to get the smog test, smog check that gives you the reliable information that you need to keep your vehicle in line with regulations. You can get your star smog check station smog test in Vacaville during hours that are convenient for you, 7 days a week now open Sundays smog check.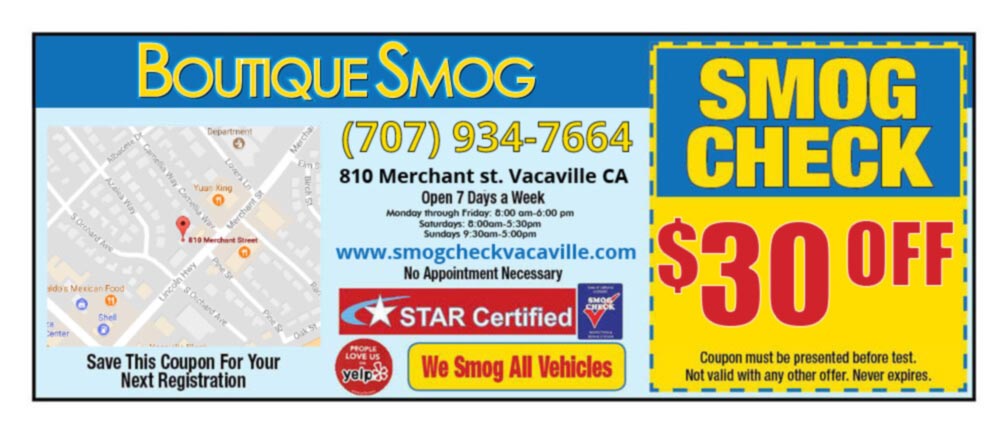 Why Us
15 Min. Smog Check
Star Certified Station
We Smog All Vehicles
Open 7 Days A Week
No Appointment Necessary
Extended Hours
Clean & Comfortable
Clean, Star Smog Check Station in Vacaville CA
Our Star smog check station is clean and ready to help you get your smog test done on any vehicle. Trucks, cars and vans, diesel smog, out of state smog, RVs smog, motorhomes smog can all be tested in one convenient location that is clean, has state of the art equipment and gives you quick reliable answers.
Reliability is the Key
While it is important that we offer our customers in Fairfield convenience, courteous service and a clean space to get their smog check done, it is our reliability that keeps our customers coming back. We take the guess work out of whether or not you are getting the right information. We pride ourselves on providing you with the reliable answers that you need to ensure your vehicle is environmentally friendly and ready to hit the road. It is our highly sensitive equipment that gives you the answers that you need! Contact us to learn more about operating hours and how we can serve you!
REACH US

---

810 Merchant St Vacaville, Ca 95688
(707) 934-7664
Monday – Friday: 9:00am-5:00pm
Saturdays: 9am-2pm Sundays: Closed
boutiquesmog@gmail.com